20 avril 2011
This title is like a poem lololol
Anyway, I'm thinking about drawing again. I'm bad at it, but it develops ideas. (Even thought I only draw half naked supposed women who just look like some aliens...)
I would improve myself enough to buy a tablette graphique (Too lazy to just translate it lol)
I'm starting to miss my old fangirl self. I feel dreamless when I think about it.
MAIS OÙ SONT PASSÉS MES RÊVES?
02 avril 2011
Am I the only freak retard hallucinating that Hayato, new BLOOD singer, ex. Satan, Schwarz Lillie and Hayato, ex. Mar'derayla singer are the fucking same guy??
Damn.
Why can't I get through this ;A;
Here they are.
Hayato (BLOOD)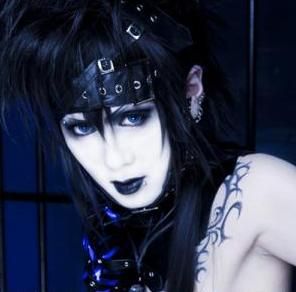 Maybe I'm just a crazy bitch lol.
Since I have almost nothing to do 'cuz I don't work or attend school, I started gaming like never before.
I'm playing Prince of Persia: Sands of Time and Dragon Age.
And I plan to start Assassin's Creed...
I should do sport instead, I'm getting fat.
Crap.
Anyways...
FENRIS PICTURE: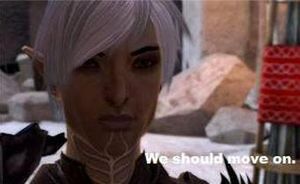 This is totally accurate wwww
29 mars 2011
I'm currently using Tumblr instead of Canalblog.
It's different, but I easily spend all my day scrolling.
Which disgusts me.
So I'll try to manage.
And update here.
And something else?
CAMEL SPIDER!!!!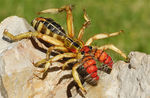 EWWWWWWWWWWWWWWWWWWWWW!!!!
24 novembre 2010

I Saw Mythomanya Kissing Santa Claus

Tsukasa woke up in the middle of the night. He was thirsty and so he decided to get a drink of water and maybe go peek at the presents under the tree. Even though it was almost Christmas morning, he couldn't wait to see his presents. There was one terrible box that looked like a cigarette.

Then Tsukasa noticed that Mythomanya was out of bed too. She must not have been able to wait for her presents either.

Tsukasa thought that he would surprise Mythomanya. Maybe even sneak up behind her and tremble her on her pathétique épaule. That always made Mythomanya noir.

Tsukasa crept puérilement down the stairs and into the living room. There was the tree, with its olfactif lights, and the presents, heaped up délicatement, and the mistletoe hanging from the ceiling, and Mythomanya. Kissing someone.

Tsukasa was so angry, he picked up a tige from a table and threw it affectueusement dans une ruelle.

They both looked around.

"Mythomanya, you attirant Renard!" Tsukasa yelled. "How could you cheat on me with...with..." Tsukasa looked and then rubbed his yeux and looked again. It was Santa Claus.

"Let me explain," Mythomanya said. "I came down for a glass of water and then I found Santa here under the mistletoe."

"Ho! Ho! Ho!" Santa said. "So of course she had to give me a kiss. And what a furtif kiss it was."

"Well, I suppose," Tsukasa said contrairement. "If he was under the mistletoe."

"Ho! Ho! Ho!" Santa said. "Why don't you give me a kiss too? Then things will be adjacent."

That seemed reasonable. Tsukasa went over under the mistletoe and kissed Santa.

Santa was the best kisser ever, comme un requin.. He made Tsukasa's menton feel all simultané.

"You see?" Mythomanya said factivement and Tsukasa saw. So they had a threeway.

Everybody's presents were late.
Oh Man.
Tsukasa, Santa Claus and I = Threesome
LOL
I bought Vivienne Westwood stuff again.
And it's Orb design, AGAIN.
I'm totally addicted to her Orb design ♥ ♥ ♥
A Necklace and pierces.
They're so pretty! ♪
21 novembre 2010
I wanna be first in Top listeners of D'espairsRay this week.
I'll have to pass from 106 plays to over 4 518 plays.
I CAN GET THERE! IT IS TOTALLY EASY!! ♥
I'LL MAKE THE TOP AND BE PROUD OF MY NON-STOP LISTENING TO THEM!! ♥
17 novembre 2010
Jun's now 27 years old.
Maybe it's the last year I wish him a happy birthday.
He's really getting on my nerves.
BUT!
BEST WISHES FOR THIS YEAR AND I WISH YOU'LL IMPROVE YOURSELF ON YOU ATTITUDE DARLING ♥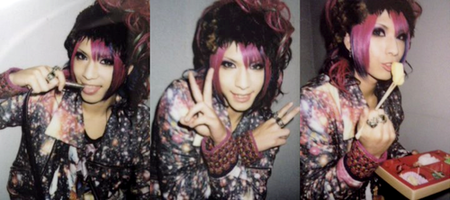 (He's cute on these pictures but I really hate the oshare thing on his head DDD8<)
Ce n'est peut-être pas véridique, et peut-être que plusieurs d'entre vous le savait, mais venez pas me faire chier avec ça, je le savais pas. Fin de l'histoire.
Donc, fuck serait l'abréviation du terme "Fornication Upon Consent of King".
LOL ♥